As technology continues to evolve, the options available to organizations that would like to use it to improve their productivity and efficiency are becoming more diverse, complex, and confusing. Our clients trust us at BCA IT to recommend the best solutions based on their individual needs, and they often ask us whether they should use Google Workspace (Formerly G Suite) or Microsoft 365.
If you're currently trying to decide between the two suites of business apps, then this article can help you understand some of the main differences between them. You can then use the information to determine how well they can meet your needs—just like we at BCA IT would if you were our client.
Google Workspace vs. Microsoft 365 Office Apps
Google Workspace and Microsoft 365 both offer a wide range of business apps designed to help organizations of all sizes get things done. The apps cover all commonly performed work tasks, from document editing to spreadsheet creation to presentations to online communication.
Here's a quick overview of all apps included in Google Workspace and Microsoft 365:
Google Workspace (Business Standard): Gmail, Meet, Chat, Calendar, Drive, Docs, Sheets, Slides, Forms, Sites, Keep, Apps Script, Cloud Search, Jamboard
Microsoft 365 (Business Standard): Word, Excel, PowerPoint, Teams, Outlook, OneDrive, SharePoint, Exchange, Access (PC only), Publisher (PC only)
While Google Workspace apps are designed specifically for the web (but they can be used offline), Microsoft 365 also comes with desktop versions of familiar Office apps, which offer far more functionality than the web-based alternatives from the same office suite.
Let's take a closer look at several essential Google apps for business to see how they fare when directly compared with equivalent Microsoft 365 apps.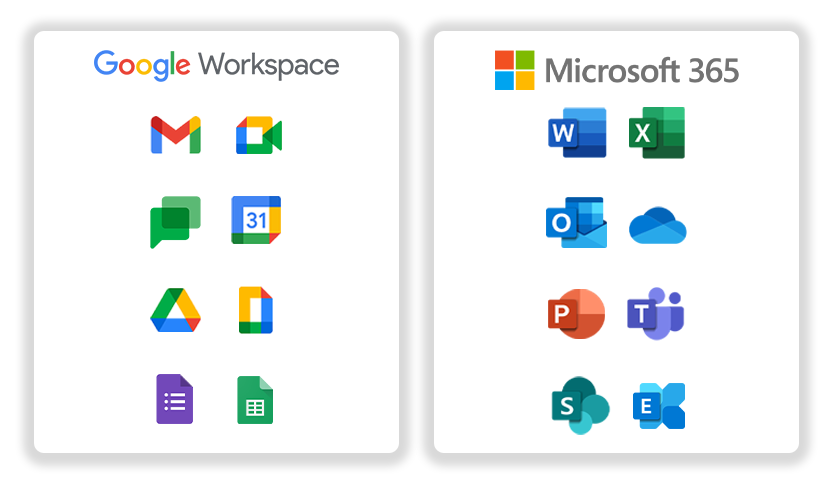 Google Docs vs. Microsoft Word
Google Docs is a cloud-based word processor that allows users to create and edit documents online. The word processor is designed to enable employees to seamlessly collaborate in real-time, allowing them to take advantage of features like @-mentions, comments, suggestions, and integrations with other Google Workspace apps, such as Google Meet (more about it soon). In addition to collaboration, Google Docs can impress with its assistive features like Smart Compose, which intelligently completes entire sentences.
Microsoft Word has been a staple of office productivity since its first release in 1983. These days, it's available for web, desktop, and mobile. The web version of Microsoft Word directly competes with Google Docs by offering a streamlined user experience with focus on collaboration. While definitely simplified, the user interface of the web version of Microsoft Word is modeled after the desktop version, so anyone who has ever used Word on Windows should find it instantly familiar.
Google Sheets vs. Microsoft Excel
Google Sheets is a user-friendly web-based spreadsheet application that allows multiple users to access and edit the same spreadsheet in real time. The application can sort, filter, and visualize data, create charts, graphs, and pivot tables, and set up real-time updates, data validations, and conditional formatting, among many other things. For the average employee, Google Sheets leaves not much to be desired, but the same can't always be said about those who analyze data for a living.
Microsoft Excel is arguably the most capable office application in the world. The web and mobile version is handy when editing spreadsheets on the go, but the desktop version outshines them by a large margin because it supports many features that are not available to Google Sheets users. Perhaps the best example of a powerful Excel-only feature is Visual Basic for Application (VBA), a programming language of Excel and other Office applications that can be used to automate routinely performed tasks and create custom functions.
Google Slides vs. Microsoft PowerPoint
Google Slides is a perfectly capable cloud-based presentation application app with all the features necessary to create engaging presentations. Just like all other office apps included in Google Workspace, Slides is highly collaborative, with support for real-time editing, commenting, and sharing. There's a convenient presenter view, and the integration with Google Meet makes it possible to present directly to an online audience.
Microsoft PowerPoint: If your goal is to create the most engaging presentation you can, then PowerPoint can support your effort with a large library of well-designed templates, extensive animation features, all kinds of funky transitions, and the ability to embed charts from Excel and tables from Word. You may also appreciate the ability to export your presentation as a movie that you can then play on any TV.
Gmail vs. Microsoft Outlook
Gmail is a well-established email service that many employees already use for personal purposes. It offers a simple and intuitive interface together with a range of features designed to make email management a breeze, such as customizable inbox views and rules. Those who want to do more with Gmail can install various third-party add-ons from the Google Workspace Marketplace.
Microsoft Outlook on desktop is a feature-packed email client with calendar, contact, and task management capabilities. Outlook desktop users can create complex rules to automate the management of their messages, create email signatures using the built-in editor, and access multiple accounts from the same place. Many of the same features are also supported by Outlook on the web, but its main attraction is the significantly simplified user experience.
Google Chat and Meet vs. Microsoft Teams
Google Chat and Meet are Google's communications services whose purpose is to enable Google Workspace users to communicate one-on-one and in groups via text, voice, or video chats. Google Chat is a Slack-like messenger with rooms and threaded conversations, whereas Google Meet is, as its name suggests, designed to facilitate virtual meetings and video conferences. Depending on which Google Workspace plan an organization has, it can invite up to 500 participants to join a single virtual meeting.
Microsoft Teams is Microsoft's all-in-one collaboration and communication platform. It provides a centralized location for messaging, file sharing, and meetings, and it integrates with other Microsoft apps and services. Teams even supports VoIP calls, so employees can use it to make or receive calls to and from anyone regardless of whether they're using a landline, mobile phone, or the Teams app.
Security
Cybersecurity is critically important for any organization, and both Google and Microsoft have extensive experience with building secure cloud infrastructure and applications at a world scale.
That said, there's no denying that Microsoft has been single-handedly powering the world of business for decades, and the company has learned how to protect its customers against all kinds of threats. That's why the Microsoft 365 Business Premium subscription plan comes with a robust advanced threat protection package that includes enterprise-grade endpoint security that works across devices, cutting-edge protection against phishing attacks with Defender for Office 365, and several other layers of defenses.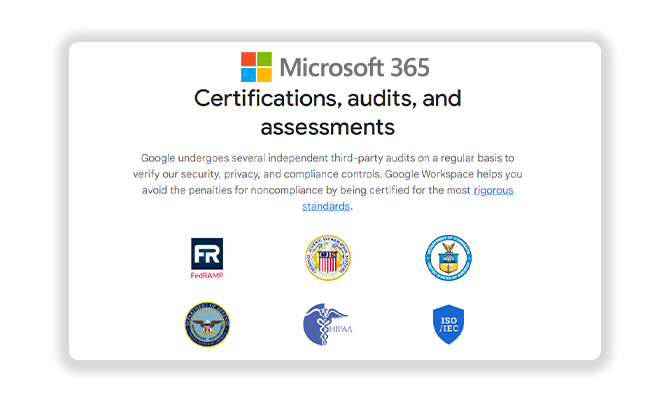 On the other hand, some of the best security and management features Google Workspace has to offer, such as data loss prevention (DLP), context-aware access, and a dedicated security center, are included only in the Enterprise plan, so small and medium-sized businesses typically can't use them.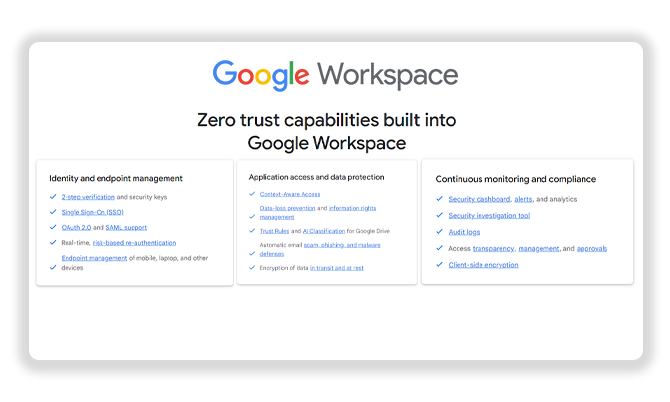 Pricing
Small businesses can choose from multiple Google Workspace and Microsoft 365 plans:
Google Workspace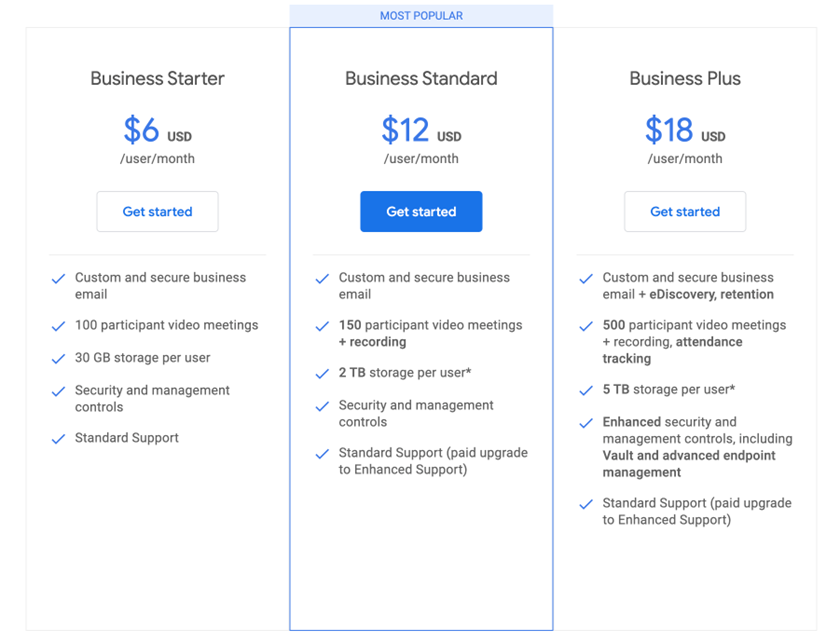 Microsoft 365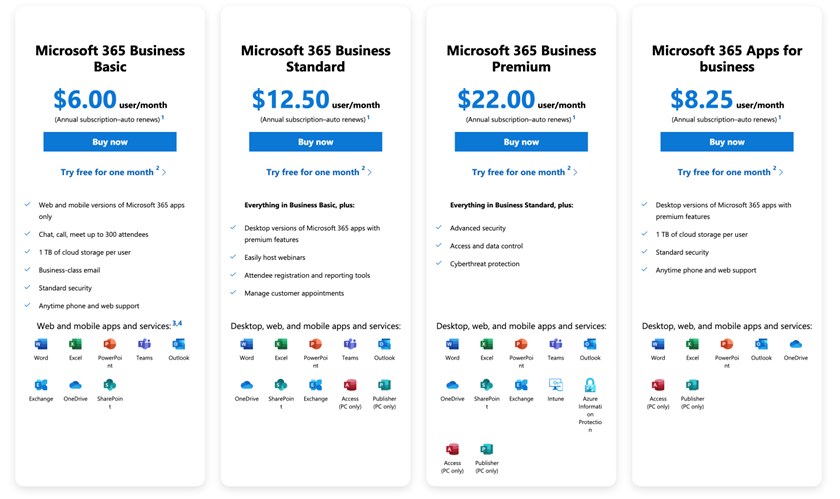 As you can see, the pricing of Google Workspace and Microsoft 365 plans is very similar and based on the number of users. Aside from the included apps, the biggest difference is that Microsoft 365 plans come with 1 TB of storage space per user, whereas Google gives its customers from 30 GB to 5 TB of storage space per user.
Verdict

Despite its slightly higher pricing, Microsoft 365 is a better choice for most small and medium-sized businesses than Google Workspace because it offers a more comprehensive set of features supported by a more robust security infrastructure.
What's more, most employees already have extensive experience with Office apps like Word, Excel, PowerPoint, and Outlook, so it takes them very little effort to use their cloud-based and mobile versions for ultimate on-the-go productivity.
So, if you're looking to upgrade your business's technology and improve your productivity, we highly recommend you contact BCA IT for more information about Microsoft 365. With our expertise and experience, you'll be able to make the most of this powerful platform in no time.